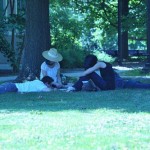 Young Writers Workshop: A three-week summer writing program for High School Students
Tentative Dates for 2017: July 9 -29
About the Young Writers Workshop
How to Apply
Tuition and Financial Aid
Responses from Students and Parents
Frequently Asked Questions
Samples of Students' Writing
Eligibility Requirements
The program is open to academically motivated and socially mature students currently in grades 9-11. Admission is selective and is based primarily on the student's application essay and an accompanying teacher's recommendation.
Tuition and Financial Aid
The workshop is designed as a three-week residential program. The cost of tuition, room and board, and on-campus activities is $2425.00. Tickets for off-campus activities are available at group rates. Modest financial aid is available for students with demonstrated financial need.
Dorothy West Scholarship
Students of color with demonstrated financial need are eligible to apply for the Dorothy West Scholarship. This externally endowed scholarship covers the full cost of tuition and room and board. All others are handled as rolling admissions. A number of runners-up will also be chosen and will be eligible for lesser financial aid awards. Information about how to apply for the various scholarships will be included with your application materials.
There is no set deadline for applying. Instead, we do rolling admissions, beginning in January of each year. We continue to read applications and accept students until the program is filled. Usually this occurs sometime in May.
For more information visit www.simons-rock.edu/young-writers